House painting can be quite a simple yet entertaining task if carried out
with devotion and dedication. If you attempt house painting by yourself,
you can save some money and get great results that meet your needs and
unique demands.
Most people think that professional house painters are best suited for a
house painting task. This isn't wrong as they have many years of experience
and equipment that you may not possess around the house. However, you
can also accomplish the task by following the advice in the house painting
articles provided on this page.


Deciding on color for your own home may be enjoyable and
simple, if you approach it in a different way. Suppose you
carried a digital camera along with you everywhere you
travelled and took photographs (...)

You don't have to become a professional painter to accomplish
an interior painting project in your home. Nevertheless,
although some ambitious people may also carry out exterior
painting by themselves, the majority of home owners (...)
Preparing to paint your house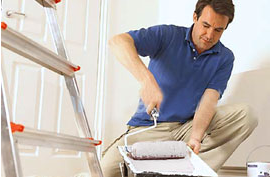 You don't have to become a professional painter to accomplish
an interior painting project in your home. Nevertheless,
although some ambitious people may also carry out exterior
painting by themselves, the majority of home owners (...)
Frequently Asked Questions

You don't have to become a professional painter to accomplish
an interior painting project in your home. Nevertheless,
although some ambitious people may also carry out exterior
painting by themselves, the majority of home owners (...)

You don't have to become a professional painter to accomplish
an interior painting project in your home. Nevertheless,
although some ambitious people may also carry out exterior
painting by themselves, the majority of home owners (...)



© 2012 PROTALL.CO FOR PAINTS & CHEMICAL INDUSTRIES